Welcome to the Newbawn Wild Bird Feed, Wexford website.
We hope that we can be of some use to you in the information that is contained in these pages.
We have tips and hints on how to get the most out of the wonder that is feeding wild birds in your garden. Our range of wild bird feeds are specifically mixed with Irish wild birds in mind and our prices are some of the most competitive in Ireland.
All our peanuts are tested for Alfa-Toxin levels with only the highest quality nuts are imported – and are therefore "safe nuts". Most of the ingredients for our Newbawn Wild Bird Feed are grown here on the farm and then blended with some imported seeds to increase the overall nutritional value of the seed.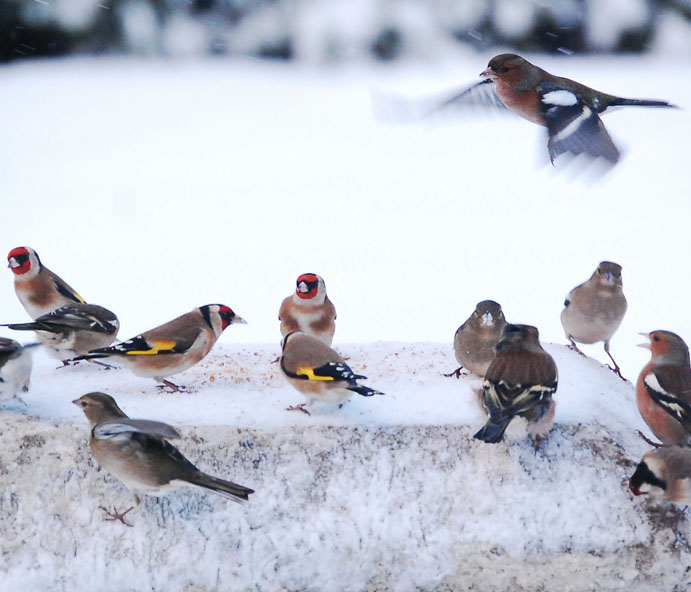 Feeding The Wildlife of Ireland
With the destruction of their environment, in and around the towns and villages of Ireland, birds are finding it harder to find the constant supply of natural food that they require to stay alive through the winter.
Farmland has become more intensively farmed, scrubland has been drained or planted with high density pine plantations.
It is a culmination of all these things that is making the feeding stations within our gardens more and more important to the wildlife of Ireland.
Wild Bird Food at Wholesale Prices

Providing a wildlife habitat within the confines of your own garden not only provides the birds and animals a safe place to reside and eat but it also provides us with immense pleasure as we watch the comings and goings and even get to recognize individual birds and animals.
If you would like to purchase wild bird feed from our web site please give us a call on the numbers in the contact us page and we would be delighted to talk you through our products and prices.
Find Out More…
Shop Online
Visit our online store and shop for peanuts, seeds and other wild bird feed produce…
About Us
Visit our online store and shop for peanuts, seeds and other wild bird feed produce…
Tips & Advice
Visit our online store and shop for peanuts, seeds and other wild bird feed produce…
For Sales Queries & Further Information Please Call: 051 428 353